Playoffs Week 1, Round 2 of the Enforcers FF League
Super Bowl!
Game #1 of the Super Bowl. Game #2 will be next weekend.
Winners Bracket
#2
Boston Eagles
beat #4
Morgan Raiders
103 – 95. Roddy White, ATL, WR, had his 4th game of the season where he scored more than 11 FF points and he chose the proper week to step and play some ball. He had 8 receptions for 139 yards and 2 TDs giving Boston 25 FF Points. Chris Johnson, TEN, RB, has only had 4 games this season where he generated less than 11 points and he did not disappoint this week either. He had 21 Carries for 142 yards and 1 TD giving the Raiders 23 FF Points.
#3
Bubble Boys
defeated #1
San Francisco NorfolkinChance
122 – 70. Adrian Peterson, MIN, RB, had 24 carries for 94 yards and 2 TDs giving Bubble Boys 23 FF Points. Ryan Grant, GB, RB, had 16 carries for 97 yards and 2 TDs giving NorfolkinChance 21 FF Points.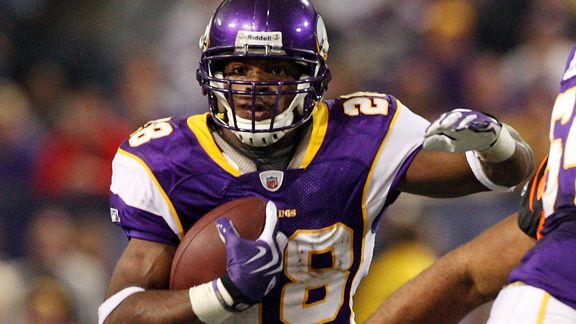 Consolation Bracket
#7
Maine iacs
Squashed #5
San Diego Dread Pirates
122 – 93. Donovan McNabb, PHI, QB, Completed 20 of 35 for 322 yards and 3 TDs giving the Maine iacs 22 FF Points. Brett "I'll never retire!" Favre, MINN, QB, completed 26 of 40 for 321 yards and 1 TD giving The Dread Pirates 18 FF Points.
#8
Kansas City Sad Chiefs
beat #6
Toledo Dobermans
113 – 63. Tom Brady, NE, QB, completed 23 of 26 for 267 yards and 4 TDs giving KC 26 FF Points. Thomas Jones, NYJ, RB, had 23 carries for 105 yards and 1 TD giving Toledo 16 FF Points.
The most Fantabulous Quarterback ever!
The Enforcers player of the week for Week #1 of the Playoffs is:
with his "Go To" Guy.
Tom Brady, NE, QB
Posted by Christopher L. Gasper, Globe Staff December 29, 2009 11:38 AM
Rest 'em or risk 'em. That's the decision that Patriots coach Bill Belichick faces with his starters for Sunday's season finale against the Houston Texans.
The safe play here is to rest 'em, but as we all know Belichick doesn't always go for the safe play (fourth and 2, anybody?), and yesterday he wasn't giving any hints as to his plans. That doesn't make this week different from any other in Fort Foxborough.
Make no mistake though, Belichick has a plan. He always does, and in his infinite football wisdom it should -- and probably does -- include quarterback Tom Brady being nothing more than a Texas tourist.
I would expect to see Tom Brady sitting on the bench and backup Quarterback, Rookie Brian Hoyer who played in his first NFL game in the Patriots' 59-0 victory over the Tennessee Titans on 10/18 taking the helm next week against Houston.